---
"CHEESE and FERMENTED MILK FOODS"
Third Edition
by
F.V. Kosikowski and V.V. Mistry
---
LATEST EDITION of BOOK ON CHEESE
---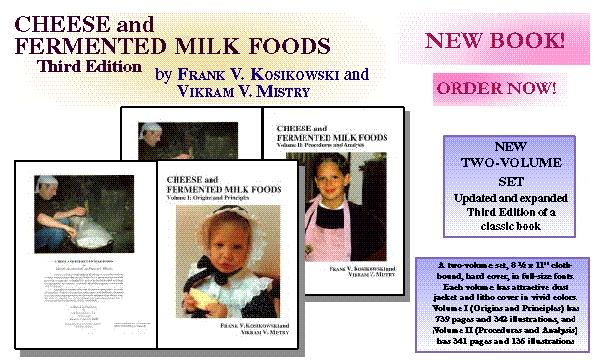 The text is written in simple language describing the origins and principles (Volume I) and procedures and analysis (Volume II) for producing important foods from milk fermentations. It should fit the needs of the technical school and college student, industry and regulatory personnel, and of those engaged in international food development. Highlights of fermented milk foods and cheeses in many parts of the world are presented. Portrayal of the products and processes, both traditional and modern automated methods, through numerous photographs and pen and ink sketches make this book a collector's item for the gourmet and non-technical reader who is interested in learning something of these natural foods.

To order, send email to:
Ricki Carroll, phone 413-628-3808

Special orders or questions:
FV Kosikowski LLC
11507 Saunders Haven Court
Great Falls, VA 22066
Phone: 703-421-4837
Fax: 703-421-4839
---
CHEESE and FERMENTED MILK FOODS
Third Edition
by FRANK V. KOSIKOWSKI and
VIKRAM V. MISTRY

Cheese and Fermented Milk Foods is the most widely read book in the world of cheese and cultured dairy foods, enjoyed by students, technical workers and the layman alike. Prof. F. V. Kosikowski (Cornell University) completed the First Edition in 1966, and the Second Edition in 1972. For this new Third Edition, Prof. V.V. Mistry (South Dakota State University) has added his contributions to the legacy established by Prof. Kosikowski. The cheese and fermented milk foods industries throughout the world have continued to evolve in many exciting ways, but the basic principles of cheese making developed many years ago still persist and have served as the foundation for these new developments. It was important, therefore, to retain these basic principles in the new Third Edition of Cheese and Fermented Milk Foods while changing and expanding each chapter to include the new developments. Five new chapters and many new illustrations and tables have been added. The book has been split into two volumes to allow the inclusion of new developments while maintaining a reasonable size of the individual volumes. New bacterial nomenclature and the metric system have been used throughout. World Wide Web addresses for USDA and FAO statistics, including production, consumption and food composition data are provided.
Table of Contents
CONTENTS (Volume I)

CHAPTER PAGE
1 HISTORY AND ORIGINS 1
2 THE FERMENTATION OF MILK 18
3 CULTURES AND STARTERS 26
4 FERMENTED MILKS 57
5 BUTTERMILK, SOUR CREAM AND RIPENED BUTTER 75
6 YOGURT 87
7 FUNDAMENTALS OF CHEESE MAKING AND RIPENING 109
8 COTTAGE CHEESE 127
9 BAKERSí, NEUFCHATEL, CREAM, QUARK AND YMER 147
10 LATIN AMERICAN CHEESES 162
11 SOFT ITALIAN CHEESE - MOZZARELLA AND RICOTTA 174
12 HARD ITALIAN CHEESE 194
13 CHEDDAR CHEESE AND RELATED TYPES 204
14 CHEESE WITH EYES 226
15 CONTROL OF SPOILAGE BACTERIA IN CHEESE MILK 252
16 BACTERIAL SURFACE RIPENED CHEESE 266
17 MOLD RIPENED CHEESE 272
18 NOMADS AND NOMADIC CHEESE MAKING 291
19 GOAT, SHEEP, BUFFALO AND CAMEL MILK CHEESE 297
20 WHEY CHEESE 314
21 DRYING AND FREEZING OF CHEESE 318
22 PROCESS CHEESE AND RELATED PRODUCTS 328
23 LOW FAT AND SPECIALTY CHEESES 353
24 WHITENING AND COLORING OF CHEESE 379
25 BIOLOGY OF A RIPENING CHEESE 386
26 WHEY AND WHEY FOODS 422
27 IMITATION CHEESE 454
28 MECHANIZED AND CONTINUOUS CHEESE MAKING 467
29 ULTRAFILTRATION, MICROFILTRATION AND NANOFILTRATION 500
30 VACUUM EVAPORATION AND REVERSE OSMOSIS
IN CHEESE MAKING 520
31 NUTRITION 533
32 STANDARDS 556
33 PUBLIC HEALTH AND SAFETY 576
34 PACKAGING 602
35 THE YIELD OF CHEESE 622
36 ECONOMICS AND MARKETING 633
37 FUNCTIONALITY AND INGREDIENT APPLICATIONS 655
APPENDIX - Conversion Data - Nutrient and General Composition of Cheese
and Fermented Milk Foods - Book List - Source of Materials - Acknowledgments -
Sketches and Photographs 664
INDEX 705

CONTENTS (Volume II)

CHAPTER PAGE
INTRODUCTION 1
1 CULTURES AND STARTERS 2
2 BUTTERMILK, SOUR CREAM AND RIPENED BUTTER 6
3 YOGURT 15
4 COTTAGE CHEESE 24
5 BAKERSí, NEUFCHATEL, CREAM, QUARK AND YMER 42
6 LATIN AMERICAN CHEESES 55
7 SOFT ITALIAN CHEESE - MOZZARELLA AND RICOTTA 61
8 HARD ITALIAN CHEESES 82
9 CHEDDAR CHEESE AND RELATED TYPES 90
10 CHEESE WITH EYES 108
11 CONTROL OF SPOILAGE BACTERIA IN CHEESE MILK 118
12 BACTERIAL SURFACE RIPENED CHEESE 120
13 MOLD RIPENED CHEESE 129
14 GOAT, SHEEP, AND BUFFALO MILK CHEESE 143
15 WHEY CHEESE 153
16 PROCESS CHEESE AND RELATED PRODUCTS 156
17 LOW FAT AND SPECIALTY CHEESES 162
18 IMITATION CHEESE 169
19 ULTRAFILTRATION IN CHEESE MAKING 174
20 FARM AND HOME-MAKING OF CHEESE AND YOGURT 179
21 ANALYSIS 208
22 SENSORY EVALUATION 265
23 GENERAL PLANT SAFETY AND QUALITY ASSURANCE 284
24 RODENT, PEST AND MOLD CONTROL 297
APPENDIX - Conversion Data - Source of Materials - Cheese Make Sheet -
Acknowledgments - Sketches and Photographs 315
INDEX 323

Ricki Carroll, phone 413-628-3808
Special orders or questions:
FV Kosikowski LLC
11507 Saunders Haven Court
Great Falls, VA 22066
Phone: 703-421-4837
Fax: 703-421-4839
---